7 expert predictions about the new world of work, across 5 industries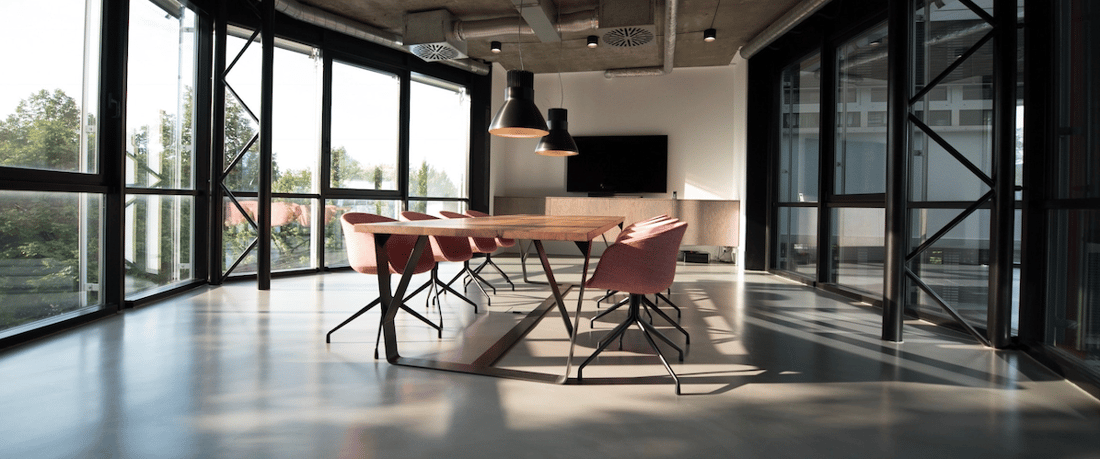 As traditional office layouts, working patterns, and workplace health and safety policies are transforming, many workers have started to return to work. In the UK, for example, workers across many industries are already back at work as the government steps up its campaign to get people to return.
Source: BBC
As such, businesses have made the health and safety of their employees, contractors and visitors a top priority.
Security staff are tracking people more closely. Facilities managers have adapted their premises. Commercial real estate technologies, such as visitor and employee screening and check-in solutions, thermal cameras, and temperature scanners are being deployed more widely. In-person HR activities are being taken online. And brand new health and safety roles are being created.
Let's take a closer look at how these professions have already adapted to this new world of work, and 7 predictions experts are making as we strive to look ahead.
Facility management
1. Increasing collaboration with commercial real estate (CRE) companies and property asset management (PAM) to facilitate new workplace needs.
Facility managers (FMs) are focusing on keeping their premises efficient and safe and looking into workplace technologies to help them do this. But overall, the way they are using space on these premises has completely changed.
Limiting facility access to certain employees, contractors, or visitors is crucial in handling building traffic, and one-way flows with directional floor markings to keep people adequately distanced. FMs have also reconfigured desk layouts to be spaced further apart, reducing seating capacity while increasing social distancing.
"Previously, we focused on densifying space to drive efficiencies. However, social distancing has obligated us to rethink and redesign our workplaces, taking into consideration how the people inside will interact. Now we're looking at de-densifying the space we use and how that will impact performance." - Peter Ankerstjerne, Global Lead, FM & Experience Services at JLL and Chairman of the Board at IFMA
To do so, he adds, requires further collaboration with other sectors. "As we move forward we must continue to further increase the collaboration with CRE and PAM, while focusing on occupancy planning and space optimization."
2. A stronger focus on people.
Beyond de-densifying buildings for health and safety, FMs will also need to adopt a stronger focus on people to help attract and retain talent.
"We will need to also work more closely with HR and IT departments to understand the technology requirements and how we can bring an increased people-focus to our workplaces. This focus must drive employee engagement, experience, productivity as well as talent retention/attraction for the organization. This is the future of FM and an area in which we must excel." - Peter Ankerstjerne
Physical security
3. Managing people flows with unified, end-to-end solutions: pre-screenings, touchless entry and access control integration, and data privacy.
The global pandemic has brought upon an additional layer of immense importance to the physical security sector. Digital visitor management solutions - particularly, SaaS solutions that are adapting to current market needs - are now necessary to screen, track, and manage all people flows within any building.
These systems are being used to handle employees, visitors, contractors, and others checking in and out of buildings. Prior to arrival, individuals are asked health-related screening questions, sent company health and safety procedures, and, if they pass all necessary check-in criteria, QR codes for a touchless entry into the building.

And as individual data privacy (due to health data being shared) is an increasing concern in this pandemic era, all visitor or employee information is kept secure with features like automatic data deletion.

According to Lee Odess, CEO of Inside Access Control and Inside Visitor Management, building access control and visitor management were previously more separate. Now and as we move forward, we'll see these spaces combine, creating new opportunities for organizations in need of keeping offices safe.
"Now, with COVID-19, we're starting to see visitor management and access control are coming together. It's a resurgence of these companies that start to look a lot alike, just coming in from two different angles. [...] The focus is now on security, convenience, and health, and finding that nice balance between all of those with the system that fits your company's use case best." - Lee Odess, CEO of Inside Access Control and Inside Visitor Management
Commercial real estate (CRE)
4. Quickly adopting CRE technologies and smart buildings.
Some organizations in CRE like Cushman & Wakefield have published comprehensive return-to-work guides, covering everything from PPE to social distancing to building maintenance and cleaning. The underlying reality in CRE, however, is the urgent need for smart buildings.
"Investors, landlords, occupants and building operators will need to shift to focus on how to mitigate the risks associated with future pandemics, natural disasters or human made events, including cybersecurity incidents, utility outages and the like. Developing a clear strategy that outlines the policies, processes and technologies required to enable the 'new normal' will be vital. [...]

In preparation for the new normal, industry participants will need to position themselves to manage their properties effectively—be it one building or a large portfolio—in a more secure, connected and automated fashion." - Cushman & Wakefield's Recovery Readiness guide, September 2020
In response to the pandemic, property owners have implemented contactless entry solutions on commercial premises. Pin pads are being replaced with QR code scanners, and automatic doors are taking the place of manual push doors. Improved air ventilation systems are being installed to circulate pathogen-free air.
Digital signage is being installed to reduce people asking others for directions, and even appliances, such as coffee machines, are being replaced with smart versions that can be voice-activated or controlled by a smartphone app.

But the real estate industry has long relied on legacy technology, and is now faced with a stronger catalyst to move further into the digital age. Looking ahead, it's vital that this process of adoption is accelerated - bringing in CRE tech like building automation tools, visitor management solutions, mobile badging and access control, room or space booking and reservation systems, and more.
"The pandemic might have turned 2020 on its head, but it's also shed some light on the needs and must-haves for the corporate real estate market." - Gregory Blondeau, CEO & Co-Founder, Proxyclick
HR
5. Increasingly moving HR activities online, with the help of new and existing tools.
HR pros were already widely used video interviewing before COVID-19. But they didn't need to do remote assessment and remote onboarding as much. Now, companies have no choice but to move some or all of their HR activities online.
"We can expect to see a rise in remote interviewing, remote assessment, and remote onboarding, to complement the traditional recruitment process." – Robert Walters
Online assessments are the new norm because a room full of applicants taking a test is no longer safe. These online assessments are often gamified, which can give an applicant a better impression of an employer's brand. Online assessments have some advantages over in-person assessments because of their reduced time to hire, and because no unconscious bias is removed.
HR staff can effectively screen prospective employees remotely using background checking services like Xref, which offers remote reference checks, employment and qualification checks, and ID verifications.
In addition, remote onboarding is more challenging to digitize. But companies are making a start by taking their onboarding process online bit by bit. For example, many are handling contracts remotely with e-signature services, like HelloSign. Welcome packs are shared using content distribution services, like WeTransfer.
Welcome videos are being produced and hosted online, and health services and other perks are being delivered remotely using services like Perkbox.
6. Handling sensitive employee data ethically.
During this pandemic, employers are being given more access to the health data of their employees. That may include, for example, information about recent travel history, medical history, temperature checks, or whether or not the given employee has COVID-19 antibodies.
"HR leaders should weigh-in on the ethics of using employee data, but also on how to utilize employee monitoring to understand employee engagement across an increasingly dispersed workforce." - Brian Kropp, chief of research, Gartner HR practice
Health and safety
7. Emerging roles in the sector (plus regularly reviewing health and safety policies).
Within health and safety in particular, new roles have emerged due to the pandemic. Numerous organizations are hiring staff to help control the risk of infection in the new world of work. According to Cushman & Wakefield, some of these roles include:
COVID-19 "block captains," who ensure that every tenant within a building respect guidelines and protocols
PPE and training experts
Quarantine marshals who handle the response if employees exhibit symptoms of the virus
Delivery clerks to sanitize all items coming into the building, and
Supplies managers who ensure all necessary health and safety materials are available and restocked
Some companies and universities, such as Tulane University, are also putting in place health ambassador programs which will train them on specific protocols to ensure safe on-campus learning and living.
Organizations returning to work certainly need preventative policies in place, as well as planned responses for what employees should do when they get symptoms or test positive for COVID-19. And as we move forward, it will be necessary to regularly review company-wide health and safety policies to stay in accordance with national and local health authorities, as well as sick leave and insurance policies. All employees should have clear access to this information at all times.
"We may have lived with the flu for many years, but this is the first time our generation has experienced a pandemic. We're now hyperaware of health risks. And employers are hypersensitive about the potential for liability if people get sick at work." – Albert De Plazaola, global strategy director at Unispace
Preparing for the unpredictable
In these uncertain times, it's impossible to accurately predict how this new world of work will continue to evolve. But one thing is certain: how and where we work - from office designs to workplace experiences - will be different from what we once knew.
And for those who plan to partially or fully return to offices and facilities, this will continue to underscore the need to adopt appropriate CRE and workplace technologies - and sustainable, smarter materials - to ensure the safety of people, across all businesses and industries.
Get the return-to-work roadmaps and further predictions from leading experts in facilities management, workplace strategy, HR, CRE and more. Watch the full session replays now from our Return Ready Workplace Summit.
---