Our Remote Working Trip We moved our company to Lisbon for 3 days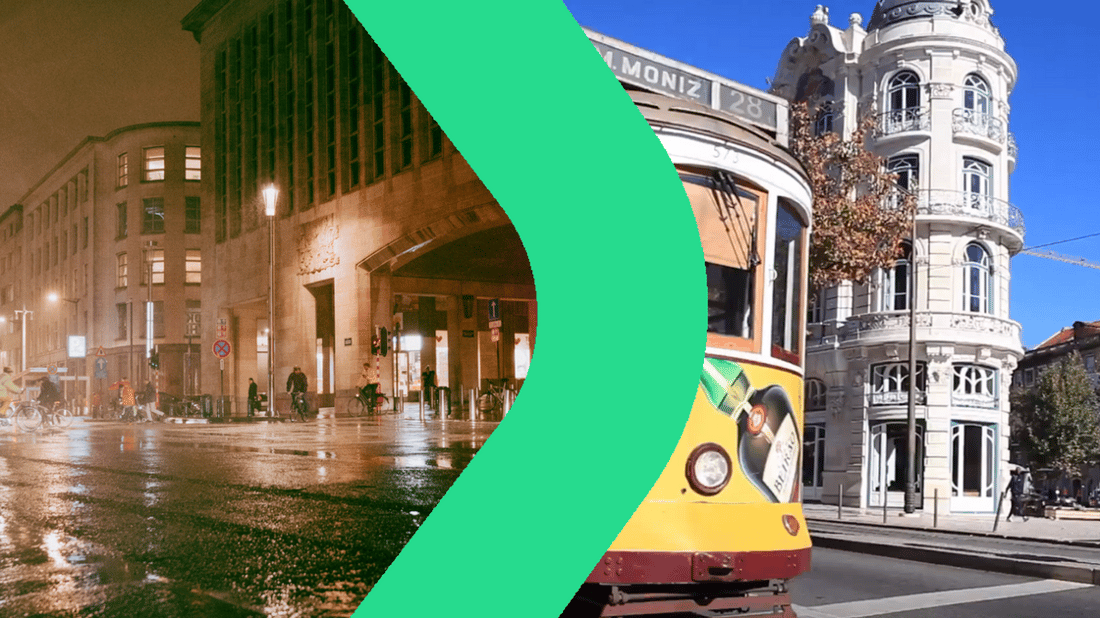 If you came around to our Brussels headquarters in mid-November 2017, you would have found the office closed with no one there. No, we did not all suddenly succumb to absenteeism. We just all moved for three days to Lisbon for our 2nd annual Remote Working Trip! Read how it happened through the eyes of a team member.
This video sums up our 3 days in Lisbon beautifully
Ticking all the boxes
Between 15 and 17th November 2017, we continued the tradition started last year in swanky Barcelona, only this time in the vibrant capital of Portugal.
The whole story of the Remote Working Trip started in 2016 when we joked that we should visit Ivan, one of our developers who works with us remotely from Barcelona. It was simply a funny idea, until we realized, we can actually do it!
The success of the 2016 "test run" led us to repeating it this year as well. We're proud to be among the few companies that dare venture into something like this, if not the only one. Why this adventure, you might ask? There's a couple of reasons:
We are a remote work friendly company. Although the most of us work together in Brussels, some of our team members are scattered around the world: in Spain, the Netherlands, the US... the trip is an outstanding opportunity for everyone to meet as a team and bond in person with our long-distance colleagues.
In Proxyclick we are on a mission to create millions of positive connections, by transforming the way people are welcomed to offices around the world. Finding new ways to get outside the comfort zone and challenge the status quo is simply how we are wired - it's in the DNA of the company. We can safely say moving the office 1000 miles is pretty much the definition of leaving your comfort zone!
A cloud-based product coupled with fast internet, accessible travel options and co-working space means there is zero effect on us being able to offer our service to our clients. With no shortage of collaboration apps like Slack, Trello or Intercom, we do ~75% of our team work in the cloud as well, meaning our progress is almost entirely location-independent.
Lisbon, just like the Catalan capital last year, ticked all the boxes we were looking for: warm climate; burgeoning startup/scale-up scene; good infrastructure; and last but not least, positive vibes.
(The warm climate alone means a lot to those of us in Brussels: come November and right after the daylight savings, things turn pretty gloomy in Belgium - at least in terms of weather and amount of sunlight.)
In less than 3 hours, we went from this:
To this:
Not bad, right?!
New trip, new surprises
Even though this was our 2nd Remote Working Trip, there were still surprises in store for us.
The first surprise was the whole trip itself, at least for people who didn't join the company yet last year. They may have learned about it, but an undertaking like this is still unheard of in other companies and you don't really know what it's like to move your workplace to another country until you've tried it!
Another part of the trip we didn't expect was when all of us learned that 3 new team members would be joining us for the trip - even before they began working officially! This must be the coolest possible way to onboard new workers, really living up to our motto of placing the warm welcome first. Also, for those of us greeting the new people, it was awesome to meet new colleagues in a somewhat more relaxed setting.
Other pleasant surprises came soon after we landed: we discovered around 20 degrees of temperature difference from Brussels, clear blue sky, friendly, smiling taxi drivers and soon after, a stylishly decorated co-working space. We immediately recognized that tile facades are the city's trademark, along with the Golden Gate-style bridge and trams.
Finally, the realization of how fast the company grew in one year took us by surprise as well - something we don't necessarily think about every day, but was underlined by a trip such as this one. Doubling in size in terms of revenue and team members, Proxyclick has remained a great place to work (remote working and all) where productivity and happiness are nurtured in same amounts.
Remote work works
That work ethic we're proud of definitely showed up with us in Lisbon. The workspace - graciously provided by Work-o - quickly turned from a bunch of empty desks into a lively workshop.
The three work days there went as smoothly as we could hope for. The only smaller obstacle happened right at the beginning when WiFi wasn't working as expected but was quickly solved by the friendly staff.
Our work elan soared when our managing directors Gregory and Geoffroy announced on the first day that Proxyclick just got funded via a €3m Series A round led by JOIN Capital from Berlin.
Right after the announcement, both of them rushed into a meeting room to strike while the iron is hot, giving interviews to several media interested in Proxyclick's journey.
In the other corner, our dev squad was putting the finishing touches to the 3 brand new features we released in December in the meantime.
Across from them, our Dutch-based Access Control System maven Kev was giving a demo to a client on a work-in-progress QR codes integration, while our sales expert Nathalie was preparing a slide deck from a client of her own.
In the center, our resident customer support hero Giovanna was handling support calls like it was going out of style - her usual mode. At the same time, Sophie was managing invoices and being her typical accounting rockstar self.
The operations were moved -- only about 2000 kilometers -- but they were fully intact.
Fat bikes, goose barnacles & Pink street
The reward for the focus and hard work came in spades throughout the three days, in form of great food, sights and even some games.
The first big fun event happened the same day we arrived: the e-bike tour of Lisbon. And riding on "fat bikes" (as we endearingly named them) as a group of 20+/- people around a completely new city was just as exhilarating as it sounds!
We saw the best vantage points (known as miradouros), zoomed along the busiest avenues in downtown, carefully weaved around the shoppers in the high streets, basked in the glow of the sunset looking at the Tagus River… there was a lot of sights packed into a short time but thanks to the "e" in the "e-bike" we made it.
During a team building game
Another big part of the entertainment were our numerous run-ins with the Portuguese cuisine.
In just 3 short days, we sampled a huge range of local delicacies: the amazingly succulent beef steak in a carvoaria next door to our workspace; the gentle sweetness of the famous Pastéis de Belém, a superior version of pastel de nata; the flavorful seafood and the zesty green wine…
Probably the dish everyone will remember most was the cooked goose barnacles.
Why this was such a one-of-its-kind experience can be summed up by a single image of the dish:
Hello, weird alien-looking tentacles (that taste quite good)!
On another occasion, a lovely dinner in a trendy restaurant on the second day led to a fun-filled night out in the vibrant clubs around Lisbon's (in)famous Pink Street where everyone really let their hair down and just celebrated the moment together.
Until next year...
By the the end of the trip, the energy of a closely-knit team was very palpable and we knew: the experiment in Barcelona in 2016 wasn't a fluke, it was confirmed.
After building a product, we're now building a company. A company, though, cannot subsist without a team that lives and breathes (and sometimes - is hungover) together. Lisbon helped us lay the foundation for this for months to come without question.
The question that poses itself now is... Where will 2018 take us?
See what our predictions are - and catch a glimpse of the memorable Lisbon trip vibes - in our brand new video!

Feeling inspired and want to be a part of our unique culture (if we didn't already work here, so would we)? Check out our Job page for opportunities and maybe you get to help us decide where to go next year!
---