Why are gender pronoun badges at work important?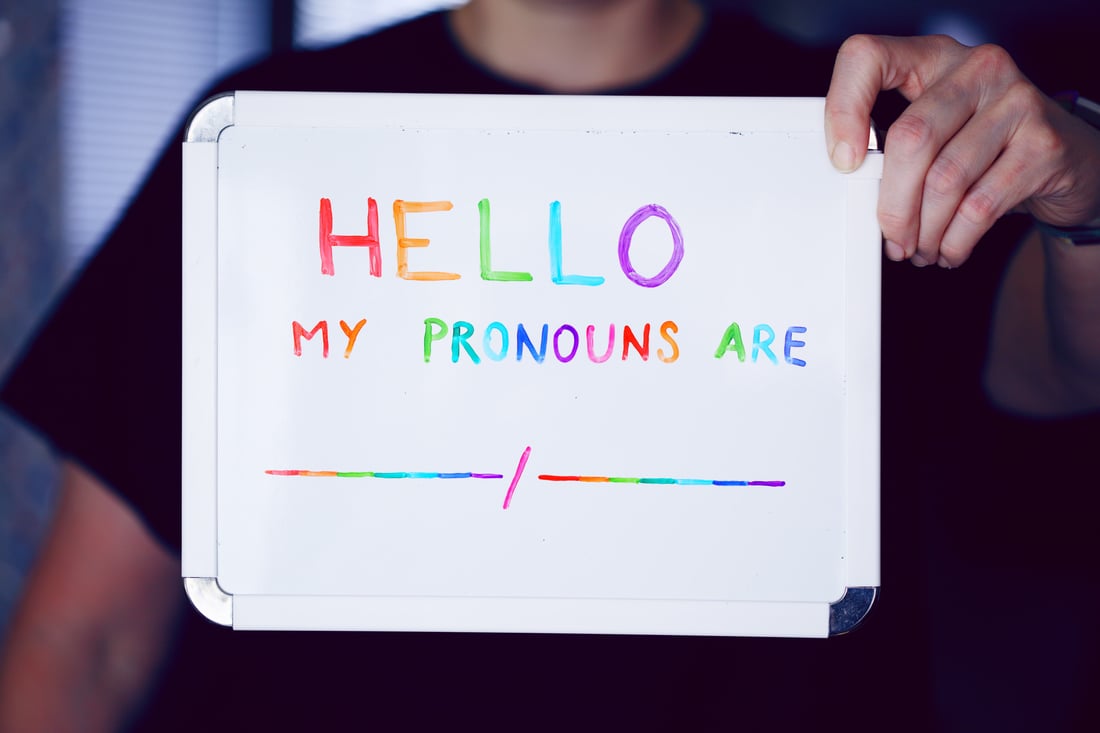 Diversity and inclusion is at the forefront of many organizations across the world, especially as many of us celebrate Gender Equality Month and Women's History Month together. Companies and their employees are learning what true diversity and more importantly, inclusion, means at their company. Gender inclusivity can be such a hard subject to talk about.
It can be challenging to let people know that you don't feel like the gender you were assigned at birth. While this conversation is tough, more people are feeling empowered to take control of their lives and share this information in their personal and professional lives. This act should be applauded, and companies should meet their employees halfway by adapting gender-inclusive policies at work.
One way to lean towards inclusion is by using correct gender pronouns at work. To help your company make the best decisions, we decided to break it down for you in the following order:
1. A brief history of gender pronouns
Let's start with a simple history of the transformation of gender pronouns and genders in general. Since many cultures today recognize just two genders, male and female, we often believe it's always been that way.
Gender and gender pronouns have a varied history depending on the language you speak. Many cultures have a history of recognizing several genders. For example, many Native American tribes recognized two spirits or people who identified as being both a girl and a boy.
We also know that gender is on a spectrum. I think you'd be hard-pressed to find anyone who doesn't see themselves as possessing a few traits commonly associated with women or men. Many of us are free to experiment with different types of expression, which lets us create a unique gender identity.
Using gender pronouns in real life
To break down why gender pronouns aren't all that important, let's look at why we use gender pronouns to begin with.
The real point of gender pronouns is to make language easier. It's easier to keep up with the people in a story if you refer to a person as he or she after you've established names and genders. "She said ____" is easy to understand in the context of a story.
But there are also times when gendering in stories doesn't make sense. For example, if you don't know a person's gender, you might ask, "What did they say?" even if you are talking about one person.
The way we understand and use gender pronouns are always changing. In the 1850s, some people even tried to use "he" in place of "they." Pronouns such as bun and bunself were also considered then. Most of these ideas didn't become a longtime part of the language discourse. Our discourse has grown a lot since then.
2. Gender pronouns today
The conversation about gender pronouns has come to the forefront as conversations about gender and what it truly means has come up more often in discussions in public and with friends, family, and co-workers. We are more conscious and understanding that someone can identify with a gender they were not born as.
Gender is more fluid than we know, and we are seeing that fluidity take shape online, in person, and at work.
If you've been keeping up with the news, you know that Merriam-Webster has made some significant changes to their dictionaries and website. Merriam-Webster has officially recognized singular "they."
Merriam Webster states that: "though singular 'they' is old, 'they' as a nonbinary pronoun is new—and useful." Merriam-Webster acknowledging they as a nonbinary pronoun is significant news because it shows how much change we've seen in the mainstream discussion around gender identity in the last decade.
3. Gender pronouns in the workplace
As the conversation around gender pronouns becomes apart of the public discord, it makes sense that those conversations are taking place in the workplace. In the war for not only talent but diverse talent, companies are beginning to notice the value of creating and acting on conversations around gender pronouns at work.
How gender pronouns impact company culture
Acknowledging and using correct gender pronouns has a profound impact on company culture. Diversity and inclusion officers have to fight against being seen as lip service over actually offering a benefit to employees. Making sure that everyone is correctly identified is a wonderful way for your D&I officer to show how much they care.
In a resource shared by the Human Rights Campaign, HRC states: "Nothing may be more personal than the way in which people refer to us through our name and pronouns. Using a person's chosen name and desired pronouns is a form of mutual respect and basic courtesy."
Our gender and identity have such a personal impact on us. It is our duty to our employees to make them feel comfortable and welcome within the walls of our company.
Company culture at Proxyclick
At Proxyclick, we value our employees, our partners, and our customers.
"People first" is one of our five core values. We aim to foster a workplace free from discrimination.
We believe that diversity of experience, perspectives and backgrounds lead to a better environment for our people and a better product for our users. And we welcome everyone to our workplace, no matter where you are from, and the more diverse we are, the more unified our ability to ensure respectful connections all around the world.
As such, our Code of Conduct dictates that "harassment is not tolerated in any form."
Harassment includes, but is not limited to:
Offensive comments related to gender, gender identity and expression, sexual orientation, disability, mental illness, neuro(a)typicality, physical appearance, body size, race, age, regional discrimination, political or religious affiliation
Deliberate misgendering. This includes deadnaming or persistently using a pronoun that does not correctly reflect a person's gender identity
As a company, we continue to have open conversations so we can learn from each other and become an active part of a long term solution.
4. Gender pronoun badges
Meeting someone for the first time can be nerve-wracking. While some employees understand gender non-conformity or being transgender in the workplace, others struggle with this. Struggling to understand your co-workers is no excuse for purposefully misgendering or identifying them, however. When your employees first meet, using gender pronoun badges is an incredible way to break the ice and let people know right away what gender each person identifies as.
Best practices for creating gender pronoun badges
Do you want to implement the use of gender pronoun badges at your company? Check out some of these best practices so your company can create a diverse and healthy work environment for everyone.
1. Use the right font size
One important tip for using gender pronouns on badges is to be careful of the font size you use when creating gender pronoun badges. If the font is too small to read from a distance, you could create unnecessarily awkward moments for employees trying to understand and use the correct gender pronouns.
2. Provide genders for everyone
You should never single out anyone or only provide genders for specific employees. If you want your company to be a sincere ally, everyone should identify their gender on their badge. By providing this information on every badge, you make sure that every badge blends in and becomes the standard way that you do things versus an outlier.
3. Create training around the importance of using correct genders and identities
Last, but not least, create a training for your employees about using correctly gendering and identifying their co-workers. In this training, answer the questions your employees are most likely to have. Provide resources to help everyone become more aware of the importance of identity. Many employees don't understand the significance of correct identification because they've never experienced the opposite.
Company policy and proper training can make or break your company diversity inclusion initiative.
In a piece for Human Resources Executive that talked about easing the transgender transformation at work, Connie Rice shared her story with policies and training. Connie stated that while the company had a transgender-inclusive nondiscrimination policy, it lacked when it came to sensitivity training and proper verbiage in their healthcare policy.
All these small details add up. Work with your HR team to understand all the policies you have that might need to be updated to make your office genuinely inclusive.
Using gender pronoun badges for visitors
If you want to be a genuinely inclusive workplace, another way to use gender pronouns is by updating your visitor badges to include gender pronouns too.
At Proxyclick, we have noticed an uptick in providing a space for gender pronouns on badges for visitors. We think this is an excellent way to promote diversity in your office.
For visitor gender pronoun badges, you want to follow similar best practices for creating employee badges. With Proxyclick's editor, you can create beautifully designed and informative badges for your guests quickly and easily.
There are many ways you can customize your badge, so it features information like gender pronouns for your guests:
You can gather information for visitor badges by creating a stellar invitation email experience for your guests.
By including this information in a form they fill out before coming to your office, you can have all of this squared away and on their profile before they step foot in your office.
5. The future of gender pronouns
Now that we've had this conversation let's take some time to cover the future of gender pronouns.
Gender pronoun diversity is here to stay
In 2019 alone, there have been some huge wins for the mainstream use of gender pronouns. More companies are recognizing the importance of gender pronouns like Virgin. Virgin recently decided to add gender pronouns to company email signatures. This is a simple yet effective way to showcase pronouns at work.
As we discussed earlier, magazines like Merriam-Webster are also creating a buzz around the importance of using the right gender pronouns. You should be prepared to teach your employees how to be more inclusive, and you should also expect that your workplace will become more diverse over the next few years.
Gender pronouns as a form of allyship
One of the best parts about using gender pronouns is that everyone can declare which gender pronouns they'd like to use. Instead of focusing your attention on transgender or gender non-conforming employees, widen the circle. Even if you identify with the gender you were born as you can still declare your pronoun.
When companies take this approach to gender pronouns, they create a safe environment for everyone to come forward with the gender pronouns they'd like to use.
Gender pronoun badges showing up often
When it comes to gender pronoun badges, we expect to see an uptick in their use. There are so many useful ways to add gender pronouns to badges outside of the workplace. You may even find gender pronouns on the badges at your next conference or orientation. Knowing someone's gender pronoun by looking at their badge instead of having the sometimes awkward conversation will help a lot of people be more comfortable sharing their pronouns with the public.
Conclusion
It's important to celebrate diversity at work, but more challenging to tackle inclusion.
Becoming a better ally for gender diversity and inclusion is something we can all do better at. Correctly identifying your co-workers and office guests are simple things you can do to be a better ally.
We hope this conversation about gender pronouns and work has inspired you to champion diversity and inclusion in your office!
For more topics around the changing world of work we're all witnessing, tune in to our New World of Work video series below.
---