Why cloud-based SaaS visitor management wins over in-house solutions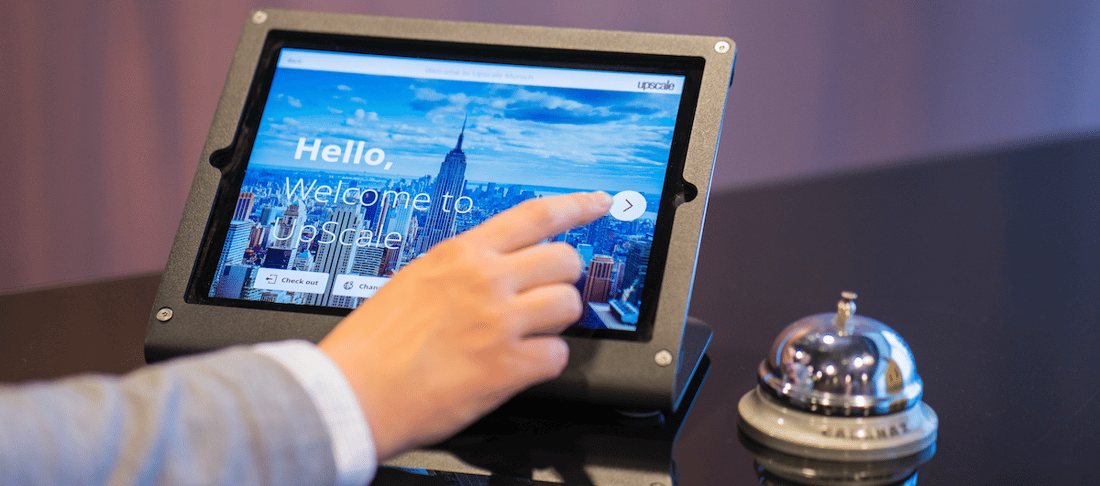 In today's transforming work environment, having the all-in-one ability to track individuals entering your locations, comply with health regulations around employee and essential visitor information, and rely on accurate and secure data is not just a nice-to-have, but must-have.
Here's where a visitor management system (VMS) comes in. Particularly necessary for ensuring workplace safety during this global pandemic, a VMS does all of the above and more — all while helping to actively elevate business performance. Versatile and customizable, it's no wonder that more and more companies are turning to these solutions to enhance security, boost efficiency, and better satisfy the needs of visitors and employees.
But before choosing a VMS for your organization, it's important to understand the key questions that may arise. One such question that many organizations face is, should they build their own in-house VMS, or opt for a cloud-based SaaS solution?
To help you make the right decision, we'll explore both options. Here's an overview of the main differences we'll cover:

1. Hosting and access
2. Levels of customization (and costs)
3. System security methods
4. Innovation and evolution of the product
Cloud-based vs. in-house visitor management solutions: differences, benefits, and setbacks
First, it's important to note that SaaS (software as a service) cloud-based and internally built in-house systems have many key operational differences between them which must be understood.
1. Hosting and access
Straight off-the-bat, the most obvious difference between cloud-based VMS and a custom-built in-house VMS (also known as on-site or in-house) comes down to how they are hosted and accessed.
Cloud-based
Rooted on the internet, cloud-based VMS are hosted online by providers and are available to users anywhere they can find a live internet connection. This allows organizations to remotely and seamlessly coordinate their company-wide VMS activity at any time, providing the ability to instantly and easily take action as needed.
In-house
In-house software is built to specification and then installed directly onto company computers. This means custom VMS can only be accessed through company devices, and that users need to physically be on location to review and manage any of their VMS activities.
Our take on both
When it comes to accessibility it is pretty clear that cloud-based systems are superior. They allow organizations to instantly coordinate every digital asset across offices and overseas. An in-house system's physical nature is a pretty heavy limitation in the age of cloud connectivity.
75% of all cloud workloads and computing instances will come from SaaS applications by 2021. - Cisco
Moreover, cloud-based systems are downloaded remotely. That means rather than taking the time to hold meetings and decide details with a custom VMS provider (and then waiting for their technicians to actually develop the system), a cloud-based SaaS solution can be downloaded, deployed across multiple locations, and integrated with other tools without delay.
2. Levels of customization: Streamlined functionality or commissioned personalization
When talking about in-house VMS, you might think that simply means companies can fine-tune every single element of their system and end up with a perfect solution for their all needs. In that sense, an in-house VMS might seem better than any cloud-based VMS, as SaaS software means objectively less modifiable platforms.
But there are some unique benefits to cloud-based systems and expensive caveats presented by in-house solutions which both need to be kept in mind.
Cloud-based
It has features available upon download. It's true a cloud-based SaaS solution comes with an ample array of features available. For example, our own solution is designed to operate smoothly alongside organizations of all sizes, and includes features like:
Self-service kiosks for employees, customers, and guests to scan QR codes from their mobile devices (an entirely touchless check-in process)
Access control system integrations to enhance organization-wide security
Facial recognition scans (ID Match) to match faces to IDs for enhanced security
Real-time employee and visitor monitoring for improved security, and to facilitate contact tracing during a global pandemic
Security alerts that instantly get sent to all the right responders
It's customizable. Even with such robust feature-sets, SaaS VMS are still wildly customizable on the user's end. The ability to integrate with an ever-growing pool of invaluable tools from third-party providers allows companies to continue using their existing calendars, messaging tools, and more.
Such a wide array of integrations offered make for a best-of-breed people flow management solution whereby businesses get the best of all worlds, and functionality is brought to wherever users go to get work done.
It can integrate with older systems. The right SaaS VMS will also allow organizations to integrate previous systems seamlessly alongside their new ones—and if contacted, their providers will be happy to work with customers to ensure they receive all the specific features they need for their unique business to thrive.
It's tied to a monthly or annual subscription fee. True, cloud-based VMS solutions are tied to recurring costs - but these are low in comparison to costs associated with in-house solutions (see more on this below). Tried and true cloud-based solutions are also based on best visitor management practices from organizations around the world, and come with customer support teams available 24/7. In other words, the product you're paying for works, and it's fully supported.
In-house
It's made to order, with all the features a company needs. An in-house VMS is exactly as it sounds: a personalized system that's made completely to order. Organizations that know exactly what they're looking for can have their own internal system created for them that bears all the features they need, along with every extraneous bell and whistle they could imagine.


But it requires a lot of planning. Of course, getting high levels of satisfaction from an in-house system requires a good amount of planning on the organization's side to fully appreciate which long-term tools they'll actually need to succeed.


It's time-consuming to build and deploy, so find a trustworthy provider. Companies will also need to find a custom VMS provider skilled enough to deliver the end results they're looking for, and it helps to ensure that the provider is easy to work with.
That's because having any kind of custom in-house software means multiple consultations, training sessions, demo tests, and more. This process can take months to finish, so the need to maintain a close collaborative relationship is to be expected for a time.

It's expensive. It's important to point out that many companies may see an in-house VMS as having finite cost, while cloud-based SaaS providers represent a recurring cost. However, beware of hidden costs. We mentioned training and consultations, but there are also ongoing fees attached to maintenance, fixes, updates, and changes to the solution if a new feature is needed.
Pro tip: Think about the total cost of ownership (TCO) when making the decision between in-house and SaaS solutions - there are calculators available online to help you determine this.
And let's not forget support - you'll hire someone to build your solution, but will they also continue to support it?
Indeed, having an in-house system created for your organization from scratch isn't cheap—especially one that's powerful and multifaceted enough to provide similar capabilities that a SaaS VMS offers.
Our take on both
How much value any company will get from a cloud-based VMS over an in-house VMS—or the other way around—is dependent on the way their one-of-a-kind business is run and the depth of personalized control they need over their systems in general.
But for most organizations the faster deployment times, lower costs, more customer support, and powerful feature sets of SaaS VMS' will make the appeal of an in-house VMS too negligible and expensive to warrant.
3. System security methods: Trusting providers or policing employees
While both types of visitor management solutions can be highly effective at enforcing in-house security and defending their user's data—organizations also need to keep the VMS they depend on safe from outside threats.
This is another area where, at first glance, one might think an in-house VMS would be the superior option by being hosted offline, and therefore be a more logical way to assure no sensitive data is accidentally or maliciously compromised. But the truth is often the opposite.
Cloud-based
Data privacy and security are handled by the provider. Reliable SaaS vendors have successfully maintained the data security of their users since the initial launch of VMS technologies, and are happy to take the concerns of data compliance off organizations' minds so that they can turn their attention to the business processes they know best. (Learn about Proxyclick's recent ISAE 3000 Type I Data Privacy Attestation here).


But finding reliable providers that put data protection at the forefront of their business is crucial. A reliable SaaS vendor must first be found. Though with the abundance of trustworthy websites that host customer reviews, good providers are not very hard to find. If there are still any lingering doubts, organizations can also go the extra mile to order a third-party security audit on the vendor they want to partner with.


Users at your company must still remain cautious. While exceptional security measures may be in place on the provider's end, cloud-based VMS users must still remain careful to password protect and keep track of any mobile devices they use to review their system. This is to ensure nobody accidentally stumbles upon them and gains a convenient portal to your key operations.
In-house
Upholding data compliance falls upon the company. Because developers are no longer involved after they've completed an in-house system (unless to make further updates or adjustments), the data security responsibility of these systems falls entirely upon the users.
It's up to a company and its employees to stay on top of all good security practices for their VMS, or else incur costly damages that no business wants to endure. This includes everything from teaching them to remain diligent against phishing and hackers, to practicing responsible password use and other general precautions at all times.
IT security must be up-to-date. 69% of companies say their security is outdated, and that can have severe ramifications. The number of attacks on valuable company systems and data stores is increasing everywhere, which means there's no room these days for vulnerabilities.


If the organization has it all under control, it may be the right solution. If organizations are willing to take on the responsibility to keep their VMS and its digital assets secure themselves and pay the price if they fail, then custom-built in-house systems could be their preferred choice here.
Our take on both
The importance of strong data security really can't be under-stressed here. For some numbers that reinforce our point:
The average cost of a data violation today will lose organizations upwards of $3.92 million. With 83% of customers in the U.S. going out of their way to avoid businesses that had a security breach in recent news cycles, the data protection of a VMS is not something companies can afford to take lightly.
The fact that there's no room for error, as well as the proven dependability of many VMS providers (when compared to the general security errors commonly seen across day-to-day company operations), it can be safer to go with a SaaS VMS provider.
Plus, there's a sense of peace of mind that comes with knowing dedicated teams of SaaS security professionals are always working to update and improve the digital defenses of your VMS.
4. Bonus SaaS benefit: continued innovation and product evolution
With the ongoing market need for a better, up-to-date product (and rarer but possible circumstances like changing regulations due to a global pandemic), it's important for your VMS to always be updating and improving.
An SaaS solution benefits from regular automatic upgrades and evolves fast to meet customer demands (see our latest product updates here). This offers additional peace of mind for organizations with this type of VMS that don't have to worry about managing their own upgrades, along with IT infrastructure/hosting, data security, and maintenance.
Thus, continued innovation and evolution of the product gives cloud-based visitor management systems one last major benefit over their in-house counterparts.
Choosing your kind of visitor management systems
The reasons for going with a cloud-based VMS over an in-house system are many, though in some cases organizations will still have good reason to go the in-house.
Like with any business technology or tool being considered, the best choice is always dictated entirely by the processes, management style, and needs that are unique to the companies in question.
To recap, an SaaS VMS solution typically wins over an in-house solution when it comes down to:
Customization and integrations

Costs (one recurring cost versus many hidden costs)

Data security management and compliance

Consistent innovation of the product, automatic updates, and regular maintenance
But our own impressions aside, by comparing these key points against one another for themselves, and evaluating the full length of their needs, organizations will have everything required to make the right decision for themselves.


Want to learn more about Proxyclick's cloud-based SaaS solution and our latest features? Book a demo with one of our experts today.
---