How touchless technology is taking over the new workplace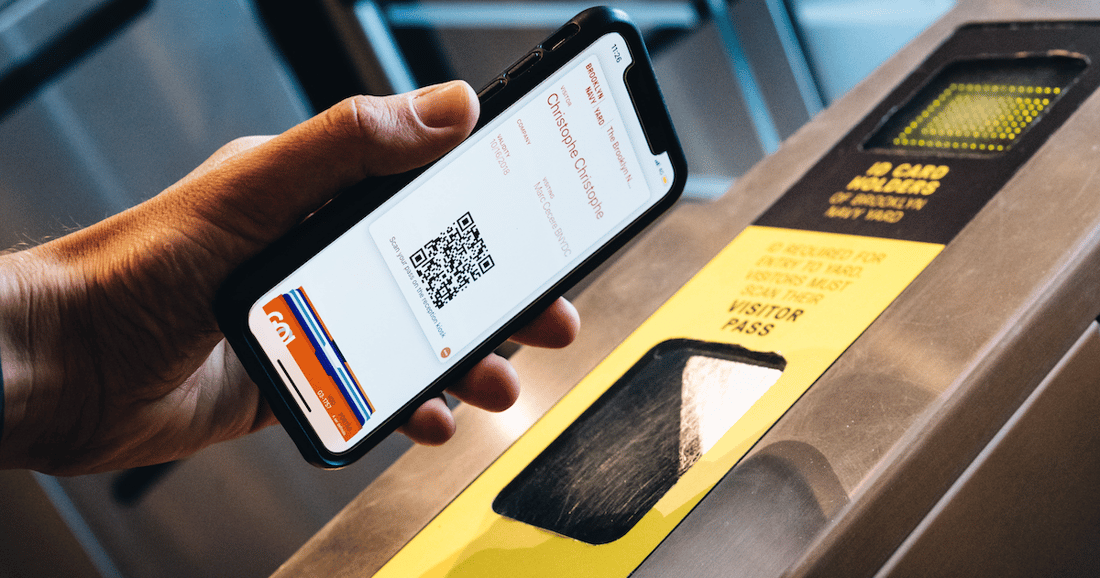 COVID-19 has upended the way organizations operate. Businesses have started to adopt new measures and practices to support their workforce and customer base – and touchless tech is at the top of that list.
It wasn't that long ago people didn't think twice about touching elevator buttons, door handles, and check-in kiosks on their way in and out of work. But now, touching these communal surfaces has become a point of contention as concerns over employee health and safety continue to inundate us.
Workplace leaders believe touchless technology is the best way to deal with this issue.
Some are improving their processes by implementing touchless check-ins for employees and visitors, using no contact sign-in apps and employee QR codes, among other technologies.
In fact, these touchless technologies are set to become the new norm in offices across the globe.
What is touchless technology?
Touchless technologies can be defined as any device that you can use or operate without needing to touch it.
Standard human-machine interfaces in this niche include camera-based gestures, proximity-enabled screens, voice recognition, and eye-tracking tech.
How does touchless technology work?
This technology enables your computer systems to take instructions through voice, user behavior, facial patterns, or physical movement (e.g., hand gestures). The systems process and interpret these signals according to preset algorithms and take the desired action for the user.
When paired with artificial intelligence, biometric technology, the Internet of Things (IoT), and cloud connectivity, touchless tech can become an integrated solution that enhances employee and visitor experience. It not only streamlines attendance and entry by prioritizing vital health and safety precautions but also ensures seamless customer service and enhances the effectiveness of administrative tools.
These touchless technologies are here to stay, as they can help us deal with some of the vulnerabilities that gave COVID-19 a foothold in our lives.
How COVID-19 fuels the need for touchless technology in workplaces
The pandemic-induced touchless tomorrow is just around the corner as more than 62% of consumers look forward to boosting their use of touchless technology after the outbreak subsides.
As touchless interaction spills over to the workplace, workers are more inclined to work with low-touch settings to ensure their own and others' safety.
According to McKinsey, vendors who adopt the highest degree of touchless technology gain a competitive edge as they pose a lower risk to employees, consumers, and their overall operations.
Touchless automation facilitates social distancing and can immensely help during the global health crisis. Let's look at some of the touchless technologies that can foster a safer yet interactive working environment for employees.
6 touchless technologies being implemented in offices
The contactless engagements and interactions can help streamline on-premises accessibility. The approach is to identify high touch areas and reduce workplace touchpoints with touchless experiences that don't require physical contact.
Today, contactless solutions need to rise and become imperative to return to the new workplace. These technological applications can help keep the employees and visitors safe from health risks in light of a pandemic.
1. Infrared sensors (I.R.)
Infrared sensors are automated devices that sense specific physical characteristics of their settings. An elevator model includes a contactless panel feature that detects an individual's destination floor through I.R. sensors. It senses when the user hovers their hands on the dashboard.
The new model branded as elevators of public hygiene the basic features such as congestion indicator, anti-bacterial lift buttons that alert when an elevator is over-crowded. To which Fujitec, the lift maker, said that "this will help users give consideration to social distancing."
Moreover, it was designed for food companies, pharmaceutical manufacturers, and hospitals but has now been incorporated in office buildings.
2. Robots
A robot can support touchless experiences and increase workplace safety. From sanitizing spaces to transferring materials and goods between workspaces – robots can deliver a great contactless experience.
Collaborative robots (cobots) can work with humans and replicate mundane tasks with precision, especially in manufacturing, food processing, and pharmaceutical industries. Cobots not only boost productivity but also let companies practice social distancing.
According to Research and Markets, the international collaborative robot market is anticipated to increase from $981 million in 2020 to $7,972 million by 2026.
3. Contactless employee check-ins
More than ever, it is vital to install touchless check-in for employees and visitors and the right reasons. It allows you to minimize contact between front desk staff and other personnel, and reduce the need for those entering your building to touch potentially contaminated surfaces like door handles, elevator buttons, and more.
When contactless sign in-apps are connected to visitor management systems like Proxyclick, you can also effectively manage all people flows within the building. Send employees, visitors, and contractors health guidelines and customized screening questions in advance of their arrival, and grant them access with a unique QR code if they meet pre-registration criteria.
Employee QR codes allow for regular staff, visitors and contractors to enter and exit the premises without needing to touch kiosk screens, as well turnstiles, and elevator buttons when integrated with access control systems.
4. Virus-proof break rooms
Break rooms are a crucial concern and require a reboot to make employees' safety the top priority. Big names like Lavazza, Nestlé, and Dr. Pepper rolled out novel touchless technology amidst COVID-19.
Nestlé added a feature to its coffee makers that lets an individual select their choice by holding their hands over the menu options. Lavazza introduced a new model that runs via a mobile app to froth up the lattes and cappuccinos without the need to touch the machine.
Bunn, a U.S coffee machine manufacturer, has a different approach and has installed a QR code that allows users to order beverages through a webpage. That way, employees' touchless experience can be enhanced while ensuring their safety and protecting their well-being with the most impactful contactless technology.
5. Automated entrances
Doorknobs and handles are hotbeds for viruses and germs. These microorganisms can live on such surfaces from hours to days.
It's important to address this concern, as caretaker staff may not clean and disinfectant door handles as frequently or as thoroughly as necessary, which can pose health risks to employees.
When integrated with access control systems, visitor management solutions that effectively manage people flows to allow for individuals to simply scan a QR code directly from their mobile device to access doorways, elevators, and turnstiles during specified times of the day. This provides a win-win solution for the organization and its people in terms of security and hygiene.
As automated entrances are technologies that allow for touchless building access, they can help businesses adjust to the new normal and mitigate their health and safety risks.
6. Auto taps and soap dispensers
Lately, touchless soap dispensers have gained popularity and for the right reasons. The purpose of washing hands is defeated if the employees or visitors have to touch taps after cleaning their hands. Also, automatic dispensers are more convenient than their conventional counterparts.
Apart from taking care of cleanliness and hygiene, the touchless dispensers reduce costs and excess wastage of soap and water at your workplace. They save you money, protect your employee's well-being, and minimize productivity loss due to health issues.
Prioritizing the health and safety of your people
In facilitating a safe return to workplaces, companies leverage touchless technologies to minimize health risks, while also creating seamless experiences for employees and visitors alike.
In present times, change is inevitable. As the need for office space remains, clear direction, guidance, and planning from HR and workplace design and strategy professionals can help companies continue to rethink and redesign spaces using touchless technology.
Cloud-based solutions like Proxyclick, which allow for touchless building access and people flow management, will continue to evolve alongside stringent policies and changing safety measures, contributing to a healthier working environment.
Learn how Proxyclick helps organizations bring their employees, contractors, and visitors safely back to the workplace. Book a demo now.
---