People continuity in a COVID-19 world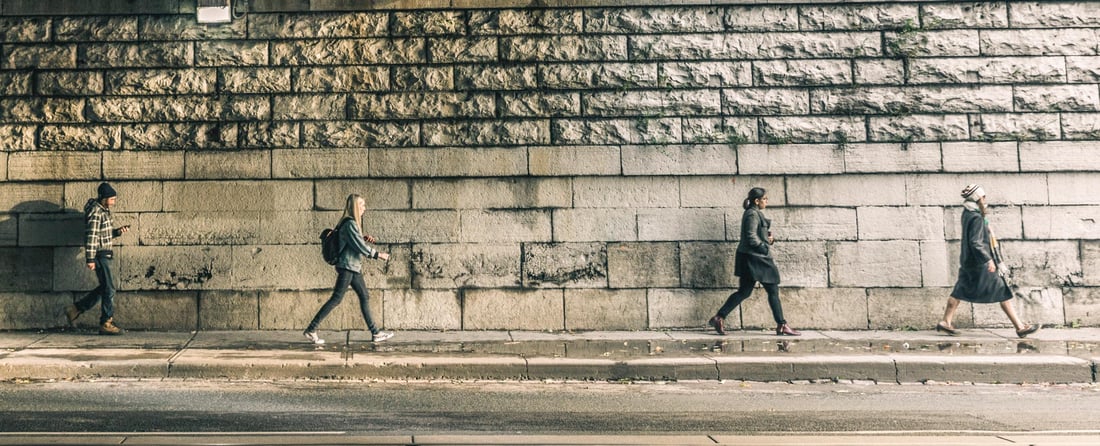 With the world in the midst of the COVID-19 health crisis, many people around the globe have been asked to spend their days at home.
At Proxyclick, we are fortunate that we have been able to adapt our business process and culture to a remote structure that can cover 99% of the work we do.
In the last few weeks, we've become familiar with: online-only onboarding for new team members, new Slack channels for us to talk and share things with each other, the sounds of children playing during our calls, and virtual team coffee-breaks where we can socialize as a group.
Just another day at the office.


All of these things and more have slotted into our company routine with minimal difficulty and with, dare I say it, a great deal of charm. We're learning new things about each other and our business.
I'm sure that, together, we'll grow from these experiences as we come out the other side.
The current situation
But it's not like that for everyone right now. For every business that is able to enjoy remote success like ours, there are others that are unable to make that switch - indeed, evidence suggests that only around 30% of people are able to work from home in the US.

In addition to supermarkets and other vital businesses, important sectors like healthcare, food manufacturing, data security, logistics, and government institutions need to stay running.
Some of our customers have heroically altered their businesses to produce items of need in these challenging times, with their in-house teams often supported by volunteers or other external workers - bravo to all involved; you really are inspiring people.
And even for those that can stay at home during the current challenges, our customers are rightly thinking about when their lockdown ends.
Proxyclick is asked to help make operations more resilient, preparing their business to reopen their doors to a world that will still be trying, both literally and figuratively, to wash its hands of this virus.
So, what steps can we take to maintain business continuity in a world of social distancing? Let me share my experiences with you.
The social-distanced visitor experience
Over the years, we've become accustomed to an equal-parts blend of tablet kiosks and handshakes when we arrive at a building.
It has long been the norm for visitors to check themselves at a kiosk as they arrive, chatting to the front desk staff as they tap away on the screen, before taking a seat to wait for their host to come and greet them.
When the crisis started, the handshake aspect of a greeting was quick to change. For a short period it became an elbow bump, before quickly settling into its current form of a wave or other greeting issued at an acceptable (yet often awkward-feeling) distance.
But the kiosk is different, it has a deeper utility. It is the point at which a business can engage with a visitor to ask hospitality questions, or run through more formal processes. It's also where the visitor notifies their host of their physical arrival.
With this versatility and function, it's not surprising that the kiosk has shown us more resilience than the humble handshake.
However, it is understandable to want to consider alternatives to the trusty kiosk. It's important to make the check-in experience for visitors as "touchless" as possible.
The aim is to limit contact between people and a potentially contaminated surface, and this is a strategy that is being employed by Proxyclick customers.

Fortunately, there are solutions available that not only remove the element of touch from a check-in without lessening visitor engagement, but also provide improvements to security while raising the overall experience of the visitor.
Get to know your visitors before they arrive
A key role of your kiosk is letting you know your visitors better. It's the point at which you can collect emergency contact details, it takes the photo that will be printed onto their badge, and it is the point where a visitor signs an agreement.
The visitor invitation process is a great place to start here. As well as the basic information on who they meet and where they go, it is also a great place to provide up-to-date information on your company policies to your guests, so they can arrive feeling comfortable and secure.
This can be combined with a line of pertinent questioning on health or travel history, giving your team important safety content for the visitor who wants to attend. Asking a visitor to sign off on this in advance also highlights safety importance and aids with compliance.
If there is anything you need to clarify with the visitor from the outcome of this process, it's easy to do before they arrive.
This offers an alternative way to interact and gain knowledge about your visitors, but you still need to be able to safely let them notify their host that they have arrived.
With this change in process you can interact and gain knowledge about your visitors in advance, but you still need to be able to safely let them notify their host that they have arrived.
Substitute the kiosk for a touchless digital check-in at the front desk
For some of Proxyclick's customers that have opted to temporarily remove kiosks at the front desk, the answer was to move towards a socially distanced check-in that is undertaken by their front desk team.



We decided to take advantage of Proxyclick's desktop dashboard, temporarily removing tablets to limit surface contact and possible spread of the virus. - Head of Global Corporate Security Strategic Programs, Insurance - 5000+ employees
The visitor arrives, announcing themselves to the front-desk team while keeping a safe distance. The front desk team then makes use of our dashboard to check the visitor in.
Any answers the visitor gave to questions can be double-checked and additional on-premise policies can be issued via email to the visitor.
The nice thing about this approach is that, as visitors are checked-in via the dashboard, all our standard notifications are issued to the host to come and collect them.
It's a simple, low-impact way in which to allow visitor continuity in your premises without putting people at risk from touching a shared surface.
Touchless check-in and a great visitor experience via access control
But there is also another option available for a touchless check-in at your business. Proxyclick can include a QR code in the invitation email that is sent to visitors or print one on the visitor badge when they arrive. This QR code can play an important role in your visitor check-in process.
By integrating Proxyclick with the access control system in your building, the QR code can be scanned from the visitor's mobile phone, or printed card, at specific turnstiles or doorways. Not only does the QR code provide them access, but it also checks them in and notifies their host to their arrival for their meeting.
Some of our customers like Brooklyn Navy Yard have long taken advantage of this, having installed access control points integrated with Proxyclick on shuttle buses, at vehicle and pedestrian entrances, and at front desk turnstiles.

"At Brooklyn Navy Yard, we don't currently have many touch points for visitors, which put our company at an advantage right off the bat during COVID-19. It helped a lot during the crisis as the process has been almost entirely touchless for visitors." - Marc A. Cecere, Director of Applications, Brooklyn Navy Yard
There are various configuration options available with our access control integration to provide a smooth check-in process to all visitors and their hosts - all without touching a thing.
For multi-tenant buildings, we can also work with destination dispatch (lift/elevator integration) to take the visitor all the way to the floor of their meeting without compromising their safety.
And because we know when the visitor should be expected, we can make sure they are only allowed in when you want them to be.
Knowledge is power
But despite immediate measures to control who accesses your premises, it is possible that someone who is sick could enter the building.
We know that the symptoms of COVID-19 might go undetected for days. Someone who advised that they feel fine, might later discover they had been infected with the virus.
Our platform can help manage incidents like this. By standardizing the way in which your visitor information is recorded, you can use it to take action, as needed, with preemptive and retroactive communication with your guests.
Past visitors can be contacted should they have interacted with someone who later was diagnosed or for other requirements, while future visitors can easily be contacted should any situation change at your building and they are unable to visit.
This will be achieved through collaboration; human resources, security and other key stakeholders can be granted access to Proxyclick, with our platform supporting other processes as needed. Security Magazine also suggests several incident management protocols that might be interesting for your business.
But we aren't stopping there

These times can be difficult. Life is strange, things feel uncertain, people can feel isolated. So many things are different.
But what's really struck me since the outbreak started is how this uncertainty has only seemed to reinforce the bonds that we have with each other.
The clapping of medical professionals and supermarket workers alike from people in confinement; the clapping as patients leave hospital from the medical professionals that cared for them; the singing from balconies; the initiatives to feed, shelter and look after each other.
These events warm me, amongst all the uncertainty.
We're still getting used to things as a team at Proxyclick, but we're not letting the current situation hold us back. If anything, it is motivating us - we see the part that we have to play in helping the world get back to normal.
So while we have a great platform that is making a real difference to organizations right now, we won't stop with what we have.
We know we are on a journey, as a team and as a product, and we know we can make things better for businesses like yours.
If you want to talk further with Proxyclick about any of the topics I've written about, our super-smart, super-friendly customer success team is here and would be happy to speak to you about business continuity. (You can contact us directly here).
I'm proud of the team at Proxyclick. We can make a difference in people's lives, by seeing this challenge and grasping it tightly. And then we wash our hands for at least 20 seconds, because that's what we do.

Thanks for reading. Stay safe everyone, stay positive. We'll beat this.

---