When will offices reopen?: Employee requirements for a return to work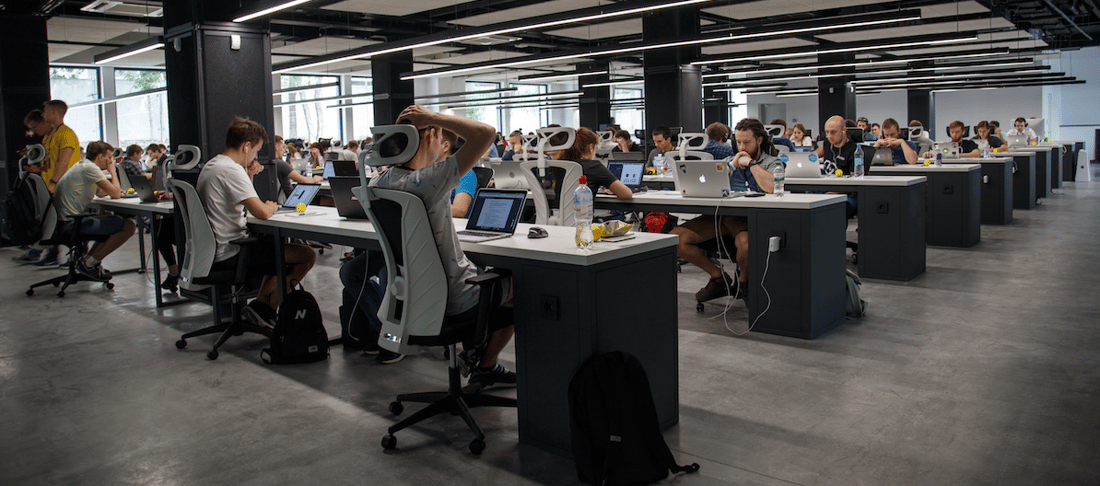 This pandemic requires us all to build a new workplace focused on employee well-being, ensuring they feel comfortable, protected, and content.
Recent reports on this new world of work show that home workers crave social and human contact. According to the Gensler U.S. Work from Home survey, 74% of the employees crave human connection with their coworkers.
Similarly, JLL's recent report, Reimagining Human Experience, indicates that, of 1 in 3 employees asking for renewed collaboration practices, employees' top 2 expectations are for "spaces that foster socialization and provide a direct connection to the outdoors."
"You have to understand the employee, you have to understand the 'why' when they come back to the office. It's not to sit at a desk and look at paperwork or a computer all day. It's to engage and socialize - those are the interactions that we humans need and are missing. Therefore, the bigger question that I have is: 'What is the purpose of the office of the future?'" - Doug Lowrie, Workplace Experience Director of Wx, Sodexo
As Gensler indicates that only 12% of employees are interested in working remotely, effectively returning to the workplace means making critical changes to ensure that your most critical asset - your people - feel motivated to do their best. Priming employees for continued success at the office means investing in sustainable, long-term back to work solutions.
"Your employees are your most critical asset, you need to ensure that they are comfortable returning and need to ensure that they maintain engagement with your company's core mission. You need to ensure that they feel supported to stay productive in these highly, highly uncertain times where they're being asked to do more and more with less and less." - Harish Peri, CMO, Proxyclick
So instead of asking, "When will offices reopen?," the answer to which is quite difficult for us all to predict, it's more practical for organizations and individuals to ask, "What are our employees' requirements for a return to work?"
3 things employers must do before inviting employees back to work
According to Gensler, "for people to feel comfortable coming back to the office, a combination of more space, more cleaning, and stricter sick policies [are] required."
When asked which changes to their companies' office environments would make them feel comfortable returning to the office, the top responses included:
Stricter policies against coming in sick
Increase opportunities to work from home
Increase office cleaning
Increase distance between workstations
Provide hand sanitizer
Touchless bathroom fixtures/doors
As such, below are the three important steps employers must complete before asking employees and contractors to return to work.
1. Plan for all variables in advance.
Organizations must have a viable plan across departments when reopening the premises. For starters, establish a disciplinary team to develop, implement, and monitor a viable return-to-work plan.
For example, Dow, whose return-to-work plan we've highlighted in our Return Ready playbook, established Crisis Management Teams (CMTs) to determine and declare COVID-19 alert levels, and to be involved in decision-making and monitoring across locations.
Such teams should include leaders from key departments, such as human resources, legal, IT, health, safety, and operations. Employers should also consult health professionals for additional guidance and help, especially in reconfiguring spaces to align with social distancing measures.
Comprehensive plans an office re-entry should also address applicable local and national regulations around office reopening, such as:
Health screening measures

Building people flow management

Sickness policies

Employee shifts to accommodate social distancing or specified building capacities

Contact tracing procedures, and other employee health and safety concerns.
2. Strengthen workplace safety
It's crucial for employers to ensure the hygiene and safety of all the employees, contractors, and visitors on the premises.
Gensler reveals that 55% of the employees expect strict arrangements and policies to be safer, and a spacious office environment given the new workplace paradigms.
Areas of focus for organizations include:
Cleanliness of the workplace
Conduct frequent disinfection of your sites, honing in on high-risk spaces, especially common areas like kitchens and break rooms, lobbies, and restrooms.
The US Center for Disease Control (CDC) has provided specific guidelines for non-healthcare facilities that detail sanitization and hygiene requirements companies must follow. This includes a need to prepare and maintain the date, time, and scope of regular workplace cleanings. The Environmental Protection Agency, along with the CDC, has also introduced related regulations for workplaces and public spaces.
To assist with individual hygiene recommendations, also imperative for companies to provide employees with ample supplies including soap, tissues, hand sanitizer, and garbage containers, as well as personal protective equipment (PPE) like masks, gloves, and face shields.
Pro tip: Some organizations have even created specific heath and safety jobs to help with handling and replacing these supplies, such as Cushman & Wakefield's Supplies Manager, "responsible for securing and distributing office supplies to staff on request."
Social distancing
Employers need to develop strict protocols around social distancing requirements. Here are some strategies that can help employees keep the necessary space:
Allow remote working or hybrid working
Limit travel requirements
Decrease or cancel social gatherings such as meetings and events, moving them online
Allow employees to book their presence on-site on specific days, as well as the meeting rooms they'll use (this information can help with contact tracing later on)
Ensure proper planning of office spaces to increase space between cubicles and desks
Prevent unnecessary crowds in building entrances, lobbies, or elevator areas by using touchless technologies
Restrict the entry of unnecessary visitors using visitor management systems
Guidelines released by the US Occupational Safety and Health Agency (OSHA) can help companies prepare for physical distancing in the workplace, and reduce virus exposure to the workers.
"We think about the staging and the queuing if you've got elevators. Some buildings have people lined up outside trying to get through the elevators. And what's going to happen in the wintertime, or when it starts to rain or snow? We really do need to think about transforming the lobby."- Kay Sargent, Senior Principal - Director of WorkPlace, HOK
Screening measures
To reduce the spread of the virus, employers must put measures in place to screen employees, customers, vendors, and visitors before they arrive on-site to foster a safe workplace.
Screening processes may include an employee health screening questionnaire to be completed prior to arrival. Questions may involve the health of the individual and whether they're exhibiting possible symptoms of the virus, the health of their family members, recent travel or exposure to infected individuals, whether they're waiting for COVID-19 test results, and more.
3. Employee communication and training
A healthy and effective communications plan, coupled with adequate resources and tools, is key to helping employees better navigate the intricacies of the new workplace.
Those involved in communicating necessary information and updates to staff, such as HR teams, should answer the following questions before reopening offices:
What information needs to be communicated?
Who communicates this information?
When and how often do we share health and safety guidelines with employees?
What is the approach for addressing employees' queries and concerns?
If we're asking employees to return, how are we dealing with those who refuse to?
"HR teams need to play a strong role in leading communication out to the employee base...this highly empathetic, highly vulnerable set of communications that's honest and open. They need to really solicit a dialogue with the employees and humanize the messaging in a way that they probably haven't done before. And they need to make it clear that they want to hear from the employee base." - Barry Marshall, Founding Partner, P5 Collaborative Consulting
Assess and address the general business issues related to the pandemic and employee health and safety, establish and update relevant new workplace policies, direct the team about those changes, and continue to ensure employees that their voices have been heard.
As Barry Marshall adds,
"We need to make sure we're repeating back to the employee base that they've been heard, but that doesn't mean we have to agree with it. That doesn't mean we should over-explain why we aren't doing certain things, but instead letting them know that they have a voice and they've been heard. We want to continue listening and continue the dialogue."
Back to work: Are you Return Ready?
Above-mentioned employee requirements, and employer considerations, for an effective return to the workplace underscore the need for workplace technologies that allow for safer, frictionless, and compliant working environments.
Proxyclick's people flow management solution provides peace of mind for employers and employees alike in the transition back to the workplace. The flexible cloud-based solution:
Communicates necessary guidelines and sends documents to sign before individuals arrive on-site
Screens all individuals in advance via easily customizable digital health questionnaires
Facilitates a complete touchless check-in for employees, contractors, and visitors by providing unique QR codes
Integrates with meeting room booking solutions to ensure physical distancing measures are met within these rooms
Helps comply with data privacy laws by allowing users to delete sensitive data when it's no longer needed, and by securely storing this data in the system
Tracks and provides real-time data reports on anyone who step foot on the premises in order to enable contact tracing
Regardless of the back to work solution you choose to best cater to employee health and safety (as well as flexible working) demands, we'll end with a takeaway from JLL's recent report:
"Technology will be a key enabler of new working models."
Want to learn more about how Proxyclick helps organizations get Return Ready? Book some time with one of our team members now.
---